Passivation Chemicals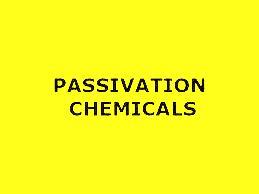 Passivation Chemicals
Product Description
Passivation chemicals are effective in forming a thin protective layer on metallic surface to avoid oxidation, rust and any other types of degradation of applied substrate. These chemicals have excellent air and water resistant attributes that help these to extend longevity of metal surface. Passivation chemicals are considered as cost effective options to safeguard metallic objects against wear and all sorts of damages caused by variation in outside temperature. Low toxin content makes these chemicals safe to handle. These chemicals can be stored for a specific duration.
Technical Details
Product Name :- Passivation Chemical
Product Code :- SHREENATH 444
Rate :- Rs. 75 - 120 Per kg.
Packing :- 5 Kgs. 10 Kgs. 20 Kgs. & 45 Kgs. In Plastic Carboy.
Delivery :- Ready Stock
SAMPLE IS AVAILABLE ON REQUEST.
Contact Us
523/A/1, GIDC Makarpura, Vadodara, Gujarat, 390020, India
Phone :+918037402400